Pressed Ceramics
Using either IPS e.max or GC initial LiSi Press lithium disilicate glass-ceramic (LS2) we can get the accuracy of fit, shape and function that you expect from pressed ceramic, as well as high strength of 400 MPa. Long-term clinical studies confirm the biocompatibility of this material.
A range of ingots with differing opacities give our ceramists the ability to mask out discoloured teeth. Let us know the colour of the prepared tooth and we will select a compatible IPS e.max or GC initial LiSi press material to recreate a natural and aesthetic appearance.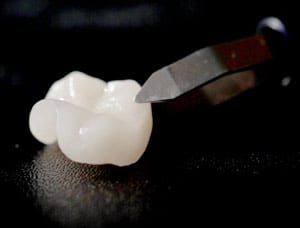 Stump Shade
The most accurate method of transmitting this information is to send us photos of the prepared tooth with the nearest match on the Ivoclar stump shade guide in shot.
Individual characterization can be achieved anteriorly with veneering ceramic, and on posterior crowns with surface staining.
Pressed Ceramic restorations are flexible with regard to their cementation requirements. Crowns and bridges can be placed with conventional cements or by using bonding techniques for added security. Inlays and veneers are always bonded on. All pressed ceramic restorations are etched with hydrofluoric acid before leaving the lab ready for you to silanize before trying in, giving you the option to bond or cement as appropriate.