Implants
We work with the leading companies in Implantology – Straumann, Dentsply, Nobel, as well as other popular brands such as Implantium, Biohorizons, Camlog and C-Tech. You can use our expertise to provide advice on the best materials for your restorations. We were the first lab in the UK to offer the Astra Cresco system and were invited to beta-test the Straumann Scan and Shape abutment service and the Dentsply ISUS CADCAM bridge service.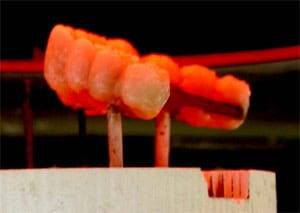 We have used Dentsply's Atlantis abutments since they were first introduced.
We take part in Dentsply's R£lax evenings, bringing the provision of single implants to practices that have not previously offered them. 
Our experience with implants from single units to full arch rehabilitation makes us ideal partners for these emerging practices.
Our early involvement with Cresco, and its then unique angled screw access hole technique, has given us considerable insight and experience in the design of CAD/CAM bridges.