Shade Taking
Our shade room is a specialised area using colour corrected light sources for accurate colour matching.
During the appointment, we will usually take close-up photographs to aid communication between dentist, patient, and technician.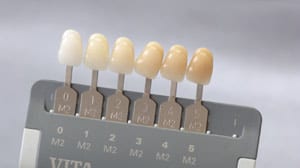 This appointment gives our customers the opportunity to express their preferences and for us to show what can be expected from the restoration. Successful colour matching is a combination of the many years of experience of the technician combined with the use of a computerised shade-taking light to arrive at the 'prescription' for the shade of the teeth.
A second appointment may be needed to check the shade match after the crowns have been made.